Product image 1
Product image 2
Product image 3
Product image 4
Product image 5
Sold in packs of 4, 8, 12, 16 and 36 (includes a 1 oz. pack of pretzel salt per 4 pretzels)
Over 7 inches wide, the Topknot is our largest pretzel on the menu. Like the Wheelhouse, the Topknot features our signature recipe: soft and pillowy on the inside with a traditional pretzel crust on the outside. They're great for late-night menus, craft beer events, and large venues.
Please note: As our artisanal soft pretzels are hand-crafted, they vary in shape and color. 
Ingredients
Wheat Flour, Water, Soybean Oil, Cane Sugar, Salt, Yeast, Vinegar.

Heating Instructions
Conventional Oven
Preheat your oven to 400° for frozen pretzels or 425° for thawed.
Place pretzels directly on a non-stick cookie sheet or on a cookie sheet with parchment paper.
Brush pretzels with butter, water, or olive oil and sprinkle lightly with your choice of pretzel salt.
Bake pretzels for 10-12 minutes from frozen or 6-8 minutes from thawed.
Pop them out of the oven and enjoy with your favorite dipping sauce.
And remember... Eat with your hands!
Nutrition Facts
Reviews
Customer Reviews
Write a Review
Ask a Question
Filter Reviews:
pretzels
some
order
everyone
grandkids
package
gifts
heaven
spray
Maui Mustard
07/04/2020
Anonymous
United States
Yumminess!
I love your products. Since the quarantine I have ordered for family, myself and a couple of HS seniors I "adopted" to spoil since their senior year was destroyed. A total of 8 orders. I have used every code I could find to help cover the cost. (I am a single teacher who's income is limited obviously). As for the Top knot? I have personally ordered 3 times and they are amazing. A meal. You certainly do pretzels right! Guess you picked the right person to ask for a review. A new code for my next order would be greatly appreciated. (Hint hint ). Thanks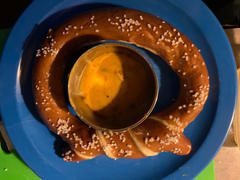 LA
07/04/2020
Lee A.
United States
First time ordering!
These are delicious authentic pretzels. Care is taken to deliver this fresh perishable product.
07/03/2020
Diane R.
United States
Pretzels during Covid
Best pretzels ever. During Covid my kids wanted hot pretzels and you guys came through. Great customer service. Everything arrived on time. Great job
07/03/2020
Deborah S.
United States
Absolutely wonderful pretzels!
I'm hooked! I can't get enough of these pretzels and the pretzel salts. I started out with a small order of 6 (around 3 months ago) and now I just ordered 48 pretzels. If these pretzels are where my Covid-19 weight gain comes from I'd be the 1st to tell you that wow... it's worth it.
07/02/2020
Claudette L.
United States
Scrumptious
These pretzels are truly delicious. Taste like you bought them fresh from a bakery. A real treat and an excellent gift.