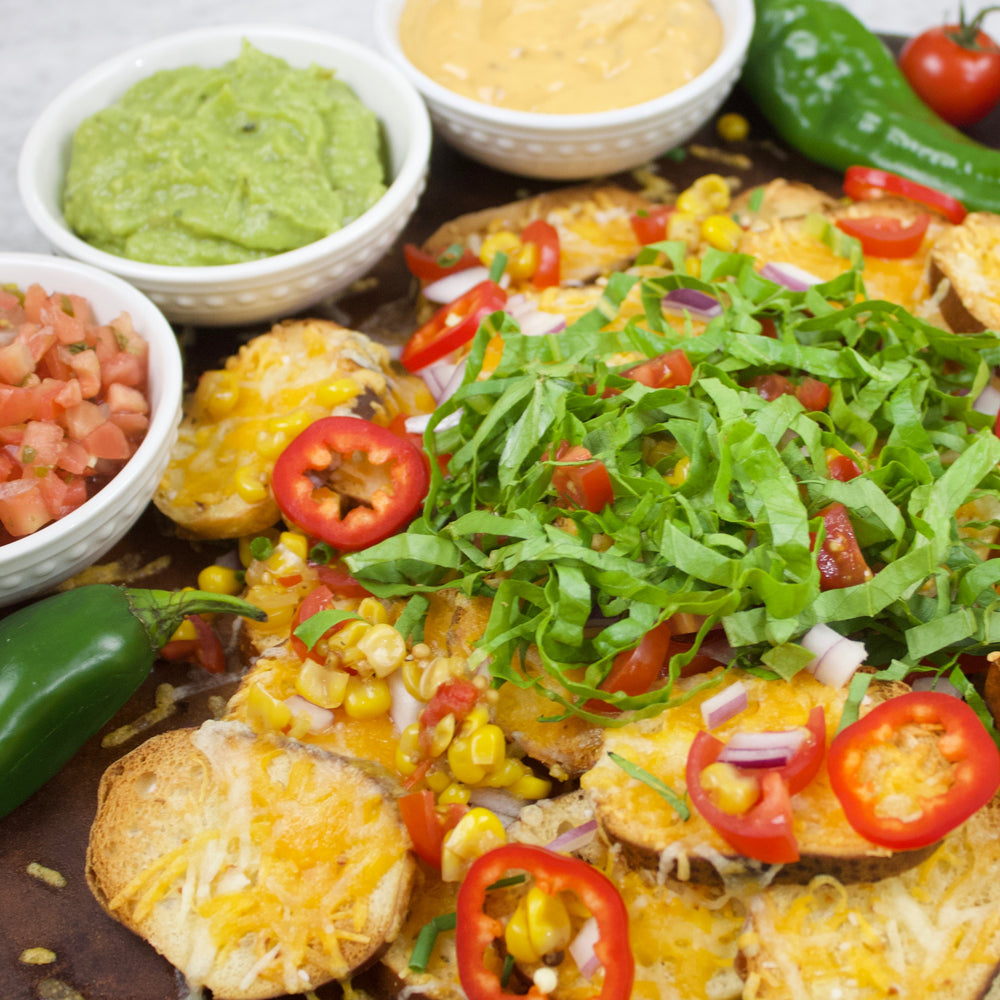 Our SlidePiece Soft Pretzel Mini Buns, thawed

6

Our Chili Lime Pretzel Salt

1/2 tsp

Unsalted butter, melted

2 tsp

Shredded Manchego cheese

3 oz

Shredded cheddar cheese

3 oz

Cherry tomatoes, sliced

6 each
Nachos make any party better, right? Well, we whipped up something that will take your nachos to a whole new level and it starts with two words: pretzel chips.  
Ingredients
6 of our 

SlidePiece Soft Pretzel Mini Buns

, thawed 
1/2 tsp of our

Chili Lime Pretzel Salt

 
2 tbsp unsalted butter, melted
3 oz shredded Manchego cheese
3 oz shredded cheddar cheese
6 each cherry tomatoes, sliced
2 tbsp chopped red onion
1/4 cup corn kernels
1/4 cup shredded lettuce
Instructions
Preheat the oven to 400 degrees.
Slide thawed SlidePieces into thin chip-like slices
Place a sheet of parchment paper on a cookie sheet and then evenly distribute the pretzel slices.
Brush the pretzel slices with melted butter and then sprinkle with the Chili Lime Pretzel Salt.
Bake for 4 minutes or until brown and crisp.
Place the pretzels on a pizza stone, Pyrex dish, or pie tin and then top with the manchego and cheddar cheeses. Bake until the cheese is melted.
Remove from the oven and top with cherry tomatoes, chili peppers, red onion, corn, and shredded lettuce.
Serve with pico de gallo, guacamole, queso dip and enjoy!