SlidePiece Cuban Sandwiches with Maui Onion Mustard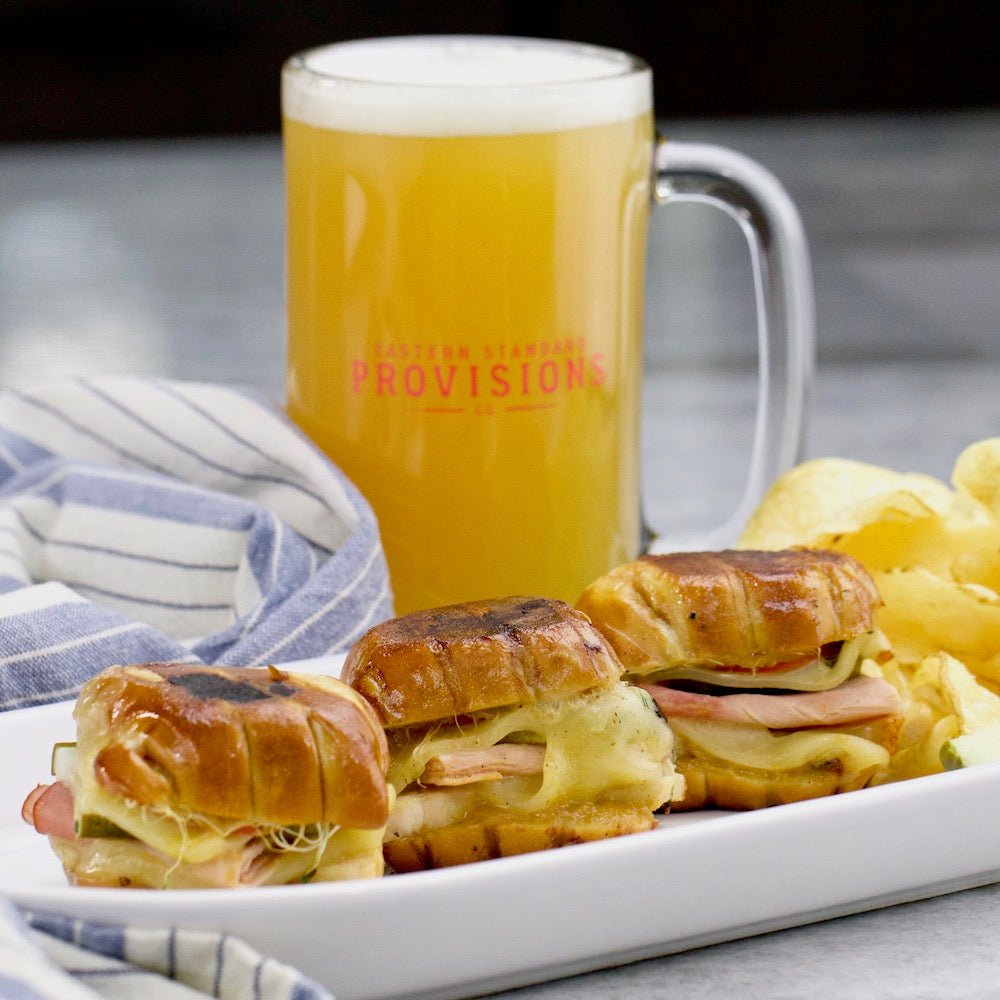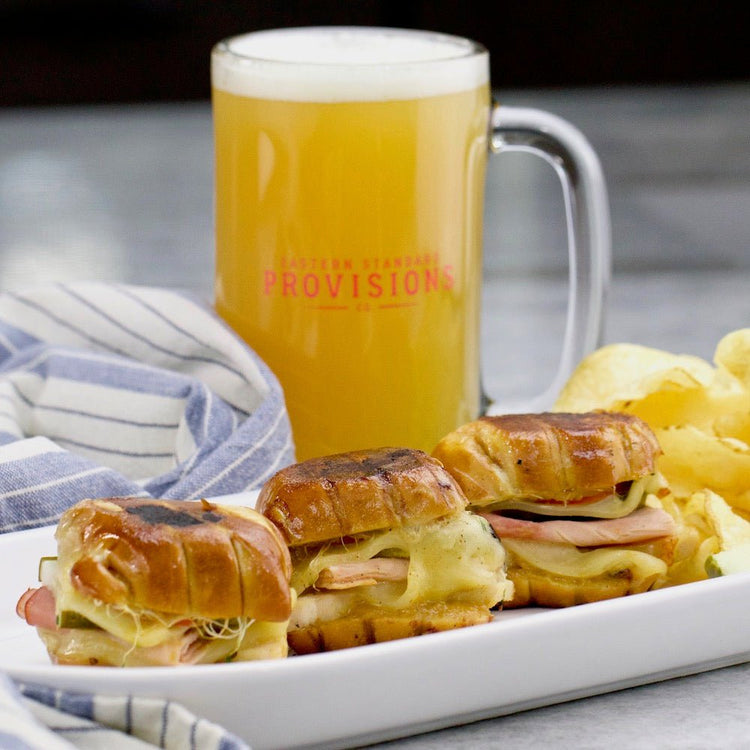 Eastern Standard Provisions SlidePiece Soft Pretzel Slider Buns, thawed

6

Eastern Standard Provisions Co Maui Onion Mustard

Eastern Standard Provisions Co White Truffle Salt

Cheese of choice, for topping

Tomato slices, for topping

Alfalfa sprouts, for topping

Sliced dill pickles, for topping
1.

2.

3.

4.

5.

6.

7.

8.

9.

10.

11.

12.
The traditional Cuban Sandwich may trace its roots to Florida and the Caribbean, but our recipe has this delicious mix of ham, pork, and melty cheese served up on our SlidePiece Soft Pretzel Slider Bun, a gourmet soft pretzel made in the traditional Bavarian style. And with Eastern Standard Provisions' New England roots, this warm and filling sandwich really is an internationally-inspired snack. 
Ingredients
6 SlidePiece Soft Pretzel Slider Buns, thawed
1 Jar Maui Onion Mustard
1 Package White Truffle Salt
1 pound pork tenderloin
1 pound ham, sliced
2 tbsp. olive oil
Juice of one lime
Juice of one orange
1 tbsp. ginger, shaved
2 garlic cloves, minced
2 tsp. salt
2 tsp. pepper
1 tsp. smoked paprika
1/2 tsp. cumin
1 tbsp. brown sugar
Cheese of choice, for topping
Tomato slices, for topping
Alfalfa sprouts, for topping
Sliced dill pickles, for topping
1/2 pound butter
Directions
Pork Marinade
1. Preheat oven to 450 degrees, and place pork tenderloin on foil-lined tray
2. Combine olive oil, lime juice, orange juice, ginger, garlic, salt, pepper, smoked paprika, cumin, and brown sugar in a bowl
3. Pour over pork tenderloin and let marinate for 30 mins to one hour
4. Roast pork in oven for 20 to 25 minutes until it reaches 140 degrees in the center. Let rest for 15 minutes
5. Carve pork into square slices for sandwiches
Assemble Sandwiches
6. Cut six SlidePiece in half
7. Spread Maui Onion Mustard on the bottom of each bun then top with pork, ham, cheese, pickles, sprouts, tomatoes, and white truffle salt. Add Maui Onion Mustard to top bun then place on top of sandwich 
8. Once all sandwiches are assembled, heat butter in a small skillet 
9. Heat medium sized skillet on medium high heat, and brush a generous amount of butter onto the pan. Place each sandwich in a buttery spot in the pan. 
10. Brush the top of each sandwich with butter, then press down with a plate, small pan, spatula or sandwich press for about 20 seconds. 
11. Flip each sandwich, and press again for about 20 seconds. 
12. Remove sandwiches from the pan and enjoy with chips, pickle, and a beer!