Wheelhouse Charcuterie Board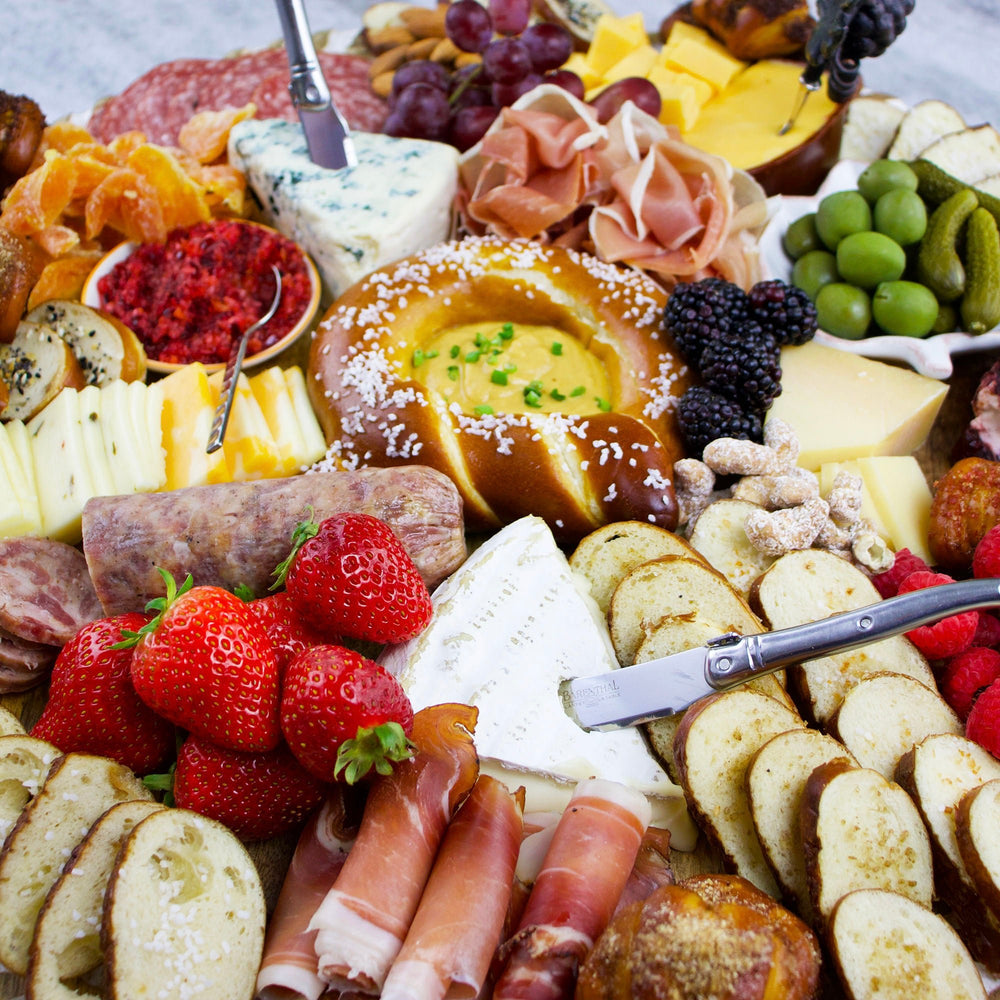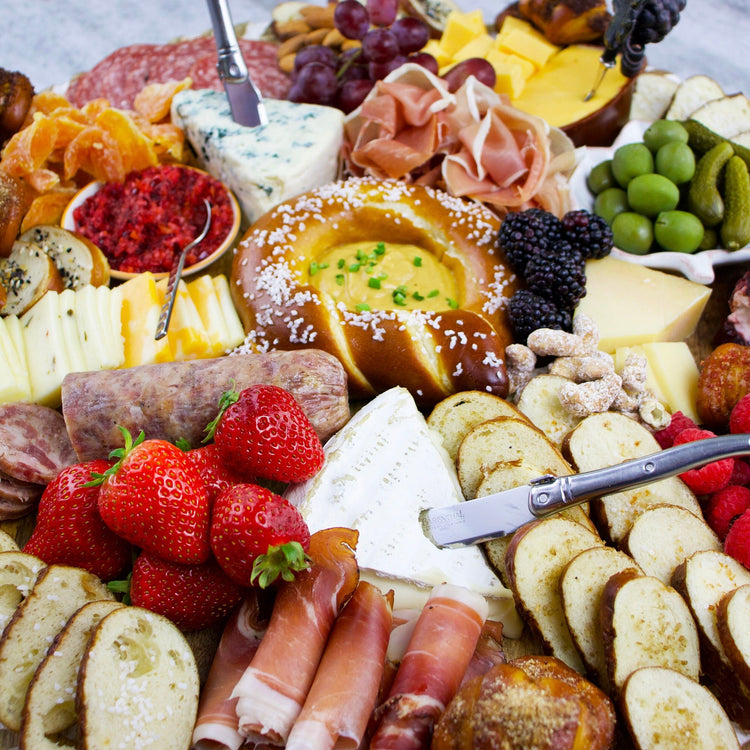 Eastern Standard Provisions Co. Wheelhouse Signature Soft Pretzels, thawed

Eastern Standard Provisions Co. SlidePiece Soft Pretzel Slider Buns, thawed and sliced

Eastern Standard Provisions Co. One-Timer Soft Pretzel Bites, thawed

Any Eastern Standard Provisions Co. salts

Eastern Standard Provisions Co. Truffle Mustard

Cranberry and orange relish

1/4 cup

Smoked prosciutto, sliced

Pepper jack cheese, sliced

Cheddar jack cheese, sliced

Blackberry goat cheese block

Dried mandarin slices

1/4 cup
1.

2.

3.

4.

5.

6.

7.

8.

9.

10.

11.
A great charcuterie board can be the cherry on top of any festive gathering, so up your board game by making yours a pretzel-filled smorgasbord. Our Wheelhouse Charcuterie Board features pretzel crostini and is centered around a delicious and edible dip holder made from our Wheelhouse Signature Soft Pretzel. 
Ingredients:
SlidePiece Soft Pretzel Slider Buns, thawed and sliced

One-Timer Soft Pretzel Bites, thawed

Any Eastern Standard Provisions flavored salts


Truffle Mustard

1/4 cup of cranberry and orange relish

Prosciutto, sliced

Smoked prosciutto, sliced

Salami, sliced

Salami, chub

Cheddar cheese, sliced

Pepper jack cheese, sliced

Cheddar jack cheese, sliced

Blue cheese block

Smoked Gouda block

Brie block

Blackberry goat cheese block

Parmesan block

1/4 cup raspberries

1/4 cup blackberries

1/4 cup strawberries

1/4 cup grapes

1/4 cup coconut cashews

1/4 cup dried mandarin slices

Green Olives

Cornichons
Assembly Instructions:
Butter Wheelhouse and One-Timers then top with your favorite salt.  Bake following our heating instructions. Set aside.

Once SlidePieces are sliced, brush butter on one side and sprinkle with your favorite salt. Cook in oven until golden and crisp. Set aside.
Take a small piece of tinfoil, the size of a Wheelhouse, and place it in the center of your board.
Place the Wheelhouse on top of the foil, then pour in the Truffle Mustard.
Select two small bowls and pour the relish into one. Place the green olives and cornichons in the other. Place on opposite sides of the board.
Cut a few slices of the parmesan cheese block to sit next to it on the board.
Add meats and cheese to the board, placing larger blocks and slices of cheese on the board first.


Add the SlidePiece crostini and One-Timers next spacing them out on all sides of the board.

Fill in the gaps of the board with fresh fruit and nuts.

Place a cheese knife in blocks of cheese, and a spoon in the relish.

Serve to friends and family!